A Thousand Words is the 7th episode of NCIS Season 16 and also the 361st episode of the entire NCIS series.
Synopsis
After a mural by a street artist and activist is stolen, the NCIS investigation leads to a conspiracy regarding a Navy contractor and the safety of ocean mammals while Bishop shares a special connection with the street artist.
Prologue
Act One
Act Two
Act Three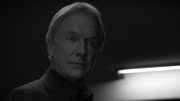 Act Four
Act Five
Trivia
Melanie Keller a.k.a. "Ritz" appears to be based on iconic street artist and political and social activist Bansky. Banksy is an unidentified street artist active in England notable for his spray paint graffiti and sculpture works meant to call out heavily publicized and impactful controversies and matters. The unknown artist has gained a massive following, has his own website, and has even had a picture based on his work auctioned off, even after he arranged for it to be shredded with a trap in the frame the very moment it was sold the first time.
This is the second time Abbie Cobb and Ian Alda have appeared alongside each other, the first being in the NCIS: Los Angeles Season 4 episode, "The Fifth Man".
Cast
Series Regulars
Other Cast