About Face is the seventeenth episode in NCIS Season 5 and also the 111th episode of the entire NCIS series.
Synopsis
NCIS investigate when the body of a civilian is found at a construction site and the team jump into action when NCIS's Medical Examiner Assistant Jimmy Palmer is threatened by an unknown assassin.
Prologue
In a lift approaching a building site, Richie Rose asks his friend, Mike Norman if he saw what a woman named Carolyn was wearing today before saying, "Damn, she's hot".
Mike tells Richie that today's the day he's gonna ask her out but he's also gotta figure out how to get a few minutes alone with her before wondering if his friend knows what he's saying?
As Mike leaves, a woman (presumably, Carolyn) is heard telling Richie that he forgot to sign his time card.
Through a walkie-talkie, Richie apologizes, stating that he'll be right down.
As he gets ready to go, Mike looks back at his friend, stunned, wondering what Richie is doing before reminding Richie about the bro rule and that Mike called dibs.
As the lift goes, Richie states that it's survival of the fittest.
Mike states that his friend ain't got a shot.
Suddenly, Mike sees something that has him going "What the... ?" and he slaps the emergency button, causing the lift to abruptly stop.
In the lift, Richie remarks that he just wanted one date.
Mike is too busy glancing at the scene to respond.
On the ground, a bloodied man stares back at Mike.
It then cuts to an overhead shot of the man's lifeless body which sits on top of the lift while numerous workers go back and forth, unaware.
Act One
Act Two
Act Three
Act Four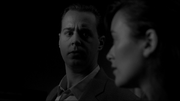 Act Five
Trivia
This is one of the few episodes of the entire NCIS series where the main murder victim is a civilian instead of a member of the United States Navy or Marine Corps.
Cast
Series Regulars
Recurring Cast
Other Cast