Boba Fett Returns - The Loop
Play Sound
Alibi is the eighth episode of NCIS Season 11 and the 242nd episode of the entire NCIS series.
Synopsis
When a Petty Officer is knocked down and killed while out jogging near Quantico, it seems like a open and shut case for the team but things take a turn when a former FBI agent turned lawyer confides in Gibbs that her client's confidential alibi is solid with the team soon discovering that there's a possible connection between three suspects they have while McGee grows suspicious of Tony's strange behavior.
Prologue
It's late at the Marine Base at Quantico and as a white SVU heads into the distance, Petty Officer Jodie Ray is busy running or rather, jogging at a brisk pace while listening to some music which blares loudly from her headphones.
As she continues jogging, a red truck comes up behind her at a fast speed, eventually slamming into Petty Officer Ray, killing her instantly while also sending her body flying into the grass where she lies there, lifeless, her eyes staring at nothing.
The truck abruptly stops and the driver gets out to examine Petty Officer Ray's body before they head back to the trunk.
Seconds later, the truck drives off again.
It then cuts to Petty Officer Ray who lies on the grass, dead.
Act One
Act Two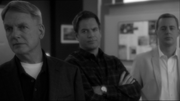 In Interrogation, Dunne states that it is his truck in the photograph but he swears he has no idea how it got that way.
Act Three
Act Four
Act Five
Cast
Series Regulars
Recurring Cast
| Name | Portrayed by | Role |
| --- | --- | --- |
| Elaine | Connie Jackson | The waitress at the diner where Gibbs gets his morning coffee. |
Other Cast