Boba Fett Returns - The Loop
Play Sound
Alleged is the twenty-first episode of NCIS Season 11 and the 255th episode of the entire NCIS series.
Synopsis
After a Navy officer is found dead on a rural road, the NCIS team must ascertain if the murder was the result of a bar fight or because he knew too much about an attack on a fellow female officer while DiNozzo and McGee start a juice cleanse to purge their bodies of impurities.
Prologue
In his car, Milton on his cell-phone remarks that he doesn't miss city life one bit.
As he drives down the road, he states that yeah, the new job starts a little too early but the trade-off? There's no cabs, no subways, no stress and that it's quiet streets and actual wildlife which seemingly suggests that Milton may have worked in New York before coming to D.C.
"Nice," the person he's talking says.
Milton tells them to hang on and that he's gonna text them a picture.
He then begins scrolling through the options but is so occupied by it he doesn't running over something, although the loud thump gets his attention.
Shouting, "Oh! Oh, No," Milton then stops the car.
He quickly unbuckles his seat belt and opens the door, only to find a man lying underneath the car.
It then cuts the man in question who lies on the ground, dead, blood visible on his face and neck.
Act One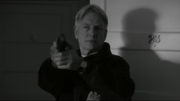 Act Two
Act Three
A while later, Bishop and DiNozzo both arrive in Interrogation to talk to Eddie with DiNozzo remarking that it's quite a hit parade.
Act Four
Act Five
Trivia
During the episode, Abby states that she hasn't bad any experience with roofies. This contradicts the events of the NCIS: Los Angeles Season 1 episode, "Random On Purpose" where Abby went to Los Angeles to meet the NCIS: Office of Special Projects team. While there, Abby was sedated and kidnapped by a serial killer nicknamed "The Phantom" although she was later rescued by the NCIS: OSP team. It's possible that Abby either blocked the bad memories from her subconscious or that she was aware of what was going on yet chose not to tell Petty Officer Holly Farrell, presumably because Abby didn't want Farrell expressing any guilt or sympathy towards Abby herself.
Cast
Series Regulars
Other Cast