Spider-Man: No Way Home Trailer Dropped - The Loop
Play Sound
Bait is the eighteenth episode in NCIS Season 3 and also the sixty-fourth episode of the entire NCIS series.
Sypnosis
NCIS are called in when the teenage son of a Marine Major arrives in school with a bomb strapped to his body and takes his classroom hostage with one simple demand: bring his mother to the classroom before sunset. But the investigation soon takes a turn when the team discover that she's dead, having seemingly drowned in a boating accident the year before and they soon begin to suspect that someone else is manipulating the youngster...
Prologue
Kody Meyers arrives at his high school in a strange, distant mood and accidentally bumps into Joe Bennes who squares him up.
Luckily, any possibility of a fight goes out the window when the bell is heard ringing, signalling the start of class which has all the students heading inside.
In the classroom, Kody meets Joe again as his classmates witness the exchange.
However, things take a turn when Kody unzips his jacket, revealing that he has a bomb strapped to his chest complete with a remote.
This has his classmates gasping and they're all stunned at what they see.
One girl panics and leaves the classroom despite Kody's best efforts to get her back.
Kody then slams the door, telling them that no-one else is leaving.
It then cuts to Kody who looks very agitated.
Act One
Act Two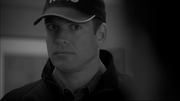 Act Three
Act Four
Trivia
The movie that Ziva was trying to name, and DiNozzo apparently got the idea from was Speed.
Tony tells Gibbs that Kate has the boy's mother in custody. Kate died at the end of the season two finale, "Twilight" after Ari Haswari shot her in the head. Kate's name was mentioned to let Gibbs know that the mother was dead.
Cast
Series Regulars
Season Three Cast
Recurring Cast
Guest Cast