Bears and Cubs is the 16th episode of NCIS Season 16 and also the 370th episode of the entire NCIS series.
Synopsis
Jimmy finds himself being torn between family loyalty and work after his father-in-law, Ed, asks him to tamper with evidence from NCIS's current murder investigation while Ed's poker buddy, Anthony DiNozzo, Sr., offers to help with the case.
Prologue
Act One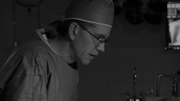 Act Two
Act Three
Act Four
Act Five
Major Events
Donald Mallard officially retires from the role as medical examiner, and officially places James Palmer as his permanent replacement.
Palmer is revealed to have had an unhappy childhood with an extremely abusive father who died when he was only 10.

Ed Slater was likewise revealed to be jealous of Palmer, his son-in-law, due to believing the latter had a happy background before learning the above, especially when he had trouble relating to his own son.
Trivia
This is the first ever episode of the NCIS series to be directed by Diana C. Valentine as she is known for directing episodes of the NCIS spin-off series, NCIS: Los Angeles.
Cast
Series Regulars
Recurring Cast
Other Cast