Being Bad is the 2nd episode of NCIS Season 14 and the 308th episode of the entire NCIS series.
Synopsis
While investigating a death that took place at a reunion at Quantico, the NCIS team uncover a bomb plot which soon leads them to a long-running theft ring while Torres and Quinn adjust to life as members of Gibbs's team which also includes new sitting arrangements and the bullpen's structure also changing in the process.
Prologue
Act One
Act Two
Act Three
Act Four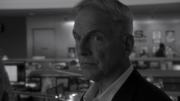 Act Five
Major Events
Torres and Quinn begin their tenure as the new members of the main NCIS Major Case Response Team.
Palmer and Abby meet Quinn in person for the first time.
Trivia
Palmer makes an oblique reference to the film The Breakfast Club, about five diverse high school students meeting during a Saturday detention.
Cast
Series Regulars
Other Cast