Beneath The Surface is the 6th episode of NCIS Season 16 and also the 360th episode of the entire NCIS series.
Synopsis
After NCIS arrives at a Halloween crime scene, Torres recognizes the victim as a friend from federal law enforcement training while Jimmy thinks his lab is haunted by ghosts after objects keep mysteriously moving.
Prologue
Act One
Act Two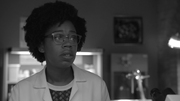 Act Three
Act Four
Act Five
Major Events
Torres is revealed to have had a slight rivalry in Marine training with the murder victim.
CIA Officer Wesley Clark was the man surveying Vance in Season 16 Episode 3 "Boom".
Cast
Series Regulars
Recurring Cast
| Name | Portrayed by | Role |
| --- | --- | --- |
| Westley Clark | Scott William Winters | CIA Officer. |
Other Cast