Cobra Kai Season 4 - The Loop
Play Sound
Berlin is the twenty-first episode of NCIS Season 10 and the 231st episode of the entire NCIS series.
Synopsis
As the NCIS team investigates the murder of a Mossad officer which occurred in Virginia, Tony and Ziva head to Berlin, Germany instead of Rome, Italy as they attempt to track down leads that could lead Ziva to Ilan Bodnar.
Prologue
The episode opens with a recap of the previous NCIS episodes which saw the deaths of Eli David and Jackie Vance and ends with NCIS Special Agent Leroy Jethro Gibbs telling NCIS Special Agent Ziva David to take her partner, NCIS Special Agent Anthony DiNozzo to Berlin as they search for Ilan Bodnar which leaves Ziva stunned.
In a parking garage, Amir Mantel sits in his car, impatiently tapping his thumb against the steering wheel.
He then stops upon seeing an SUV.
"Better late than never", Mantel says before ordering the person to stand by.
As the SUV arrives, Mantel remarks that he was beginning to wonder.
The window then rolls open with the driver leaving Mantel stunned and wondering what the mysterious man is.
Seconds later the man draws a gun and shoots Mantel, the shot killing Mantel instantly.
The SUV then drives off.
It then cuts to the inside of the car where Mantel lies there, dead before panning to reveal a Star of David which confirms that Mantel is an officer with Mossad.
Act One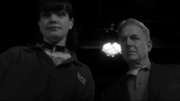 Act Two
Abby hangs up and informs Gibbs that the NCIS Medical Examiner Dr. Donald Mallard is sending his assistant, James Palmer.
Act Three
Act Four
Act Five
Major Events
Orli Elbaz, the new Director of Mossad and Adam Eshel are both introduced for the first time.
Cast
Series Regulars
Recurring Cast
Other Cast