Blast from the Past is the sixteenth episode of NCIS Season 12 and also the 274th episode of the entire NCIS series.
Synopsis
The NCIS team investigate when a covert identity created for one of Gibbs's undercover cases twenty years ago resurfaces after a murder victim is found to be living under the alias with the investigation eventually leading them to a group of Serbians operating illegally in the United States.
Prologue
In a car, a computer states, "Proceed straight on Seventh Street".
In the driver's seat, Leland Spears drives along the street before wondering if they're sure that they gave him the correct address and that all he sees are warehouses.
On the other end of the line, another man says, "That's the right address, trust me. Just keep going. You'll see it".
As the car edges closer, the computer informs Spears that in 200 feet, his destination will be on the left.
Spears remarks that he doesn't get it and that his GPS says he's pulling up right now and that he hasn't seen a house for a few miles, only to stop when two gunshots emerge, both shattering the windscreen of the car.
The car then loses control and crashes into some containers.
It then cuts to Spears who lies there, slumped in the driver's seat as the computer tells him that he has reached his final destination.
Act One
Act Two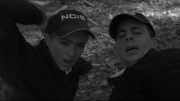 Act Three
Act Four
Act Five
Cast
Series Regulars
Recurring Cast
Other Cast