Boom is the 3rd episode of NCIS Season 16 and also the 357th episode of the entire NCIS series.
Synopsis
As the NCIS team investigate an explosion outside the house of a Navy Petty Officer whose wife is a popular reality TV star with one being starstruck, they soon find themselves racing to stop a possible serial bomber while Vance continues physical therapy for the injuries sustained when he was held hostage.
Prologue
Act One
Act Two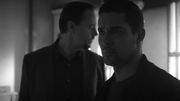 Act Three
Act Four
Act Five
Major Events
It is revealed that Director Leon Vance is being surveilled for unknown reasons by a third party.
Due to a Supreme Court ruling deeming using pinging of cell phones, even under the pretenses of an investigation of finding the killer, unconstitutional, the MCRT team was forced to avoid pinging cell phones until they found a workaround.
Trivia
The production code for this episode indicates it was filmed after "Third Wheel" but aired before it.
In one scene, the two necklaces that Bishop wears disappear but in the next scene, they're back again.
Cast
Series Regulars
Recurring Cast
| Name | Portrayed by | Role |
| --- | --- | --- |
| Kayla Vance | Naomi Grace | NCIS Director Leon Vance's teenage daughter. |
| Guy Ross | Kent Shocknek | ZNN News Anchor. |
Other Cast