Spider-Man: No Way Home Trailer Dropped - The Loop
Play Sound
Bounce is the sixteenth episode in NCIS Season 6 and also the 129th episode of the entire NCIS series.
Synopsis
When a man is found dead, the NCIS team investigate with DiNozzo later discovering that the death is connected to a case that he investigated during his time as team leader three years ago.
Prologue
At a hotel room numbered "742", a man leaves the room, bringing with him a large suitcase that he wheels.
As he walks down the hall, a maid asks the man if he found his friend.
The man tells her that he did and thanks her.
He then passes another hotel room owner who's trying to get into his own hotel room but failing miserably.
The man then arrives into a room and dumps the suitcase down a chute.
Outside, the chute leads to a skip filled with rubbish and trash-bags.
Seconds, the suitcase arrives and splits open, revealing that there's another man inside.
It then cuts to a close-up of the man's face and shows his eyes are glazed over, revealing that the man is in fact dead.
A while later, the man who dumped the suitcase is walking through the lobby and heads up to the desk with the man revealing that he's checking out.
The female receptionist asks for his name.
It then cuts to the man who tells her that his name is Special Agent Anthony DiNozzo.
Act One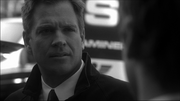 Act Two
Act Three
Act Four
As the team process the crime scene, Elaine Davis states that they got it all wrong and that her husband likes to be handcuffed with Tony asking about the broken nose.
Elaine states that her husband slipped.
Ziva wonders about the lighter fluid.
Elaine tells her that after what her husband did, it was either that or Elaine's garden shears.
Act Five
Major Events
It's revealed that NCIS has an office in Tokyo, Japan.
Gibbs's Rule 38 is revealed to be "Your case, your lead".
Trivia
The song playing when Tony visits Abby's lab for the second time is "Love Is Like" by Skold Vs KMFDM.
Cast
Series Regulars
Recurring Cast
Other Cast