Boba Fett Returns - The Loop
Play Sound
Broken Arrow is the seventh episode in NCIS Season 8 and the 169th episode of the entire NCIS series.
Synopsis
To DiNozzo's surprise, Gibbs recruits DiNozzo's father, Anthony D. DiNozzo, Sr to help solve the murder of a high-level executive who became involved with a lost nuclear weapon that disappeared during the Cold War but things go from bad to worse when the team discover that a lone group is planning to get their hands on the nuclear bomb.
Prologue
Navy Vice Admiral C. Clifford Chase walks along an area of the Academy, obviously and impatiently waiting for someone and as he does that, his driver approaches, telling the Admiral that with rush-hour traffic, the Admiral is gonna be late for the 8am staff meeting.
"Yeah, yeah, yeah", Chase mutters, distracted before glancing at his watch before saying, "Where is he?".
Chase begins dialing the number but stops upon hearing the ringtone "Anchors Aweigh".
Gesturing into the distance, Chase tells the driver that it's coming from there.
With that, the two men then head over.
Chase unlocks a gate, giving him and his driver access to the area.
It then shows that the area in question is a small close-off area with nothing but a big garbage dumpster.
As Chase and his driver examiner the dumpster, a group of Naval recruiters run past, the group on their morning jog.
Chase then opens the lid of the dumpster and sees the body of his friend stashed inside amid various items of garbage and also garbage bags.
This has both Chase and his driver horrified.
It then cuts to the phone which shows that the caller is none other than Admiral Chase himself.
Act One
Act Two
Back in the bullpen, McGee announces that the passengers Mayfield and Gaston are on the way in while Tony states that his father isn't answering and that he's got voicemail again.
Gibbs tells McGee to track DiNozzo Senior's cell.
"Why didn't I take his call?", Tony wonders, scribbling down something, presumably his father's number which he then gives to McGee.
Act Three
Act Four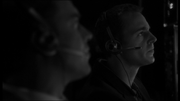 Act Five
Major Events
Ziva gets her own official U.S passport.
Anthony DiNozzo Sr returns to D.C and Gibbs enlists his help in the investigation much to Tony's dismay.
Abby reveals that her father is dead.
Both DiNozzos soon reconcile their differences with one another, finally repairing their relationship.
Trivia
The term, "broken arrow" is a term used to describe mishaps involving nuclear materials with "broken arrows" entailing an accident involving nuclear weapons.
Cast
Series Regulars
Recurring Cast
Other Cast