We're Getting Mutants in the MCU - The Loop
Play Sound
Cadence is the fourteenth episode of NCIS Season 12 and the 272nd episode of the entire NCIS series.
Synopsis
A Marine who was also a member of the Remington Military Academy, prompting the NCIS team to investigate. As this happens, DiNozzo finds himself remembering his day as a young teenage student at the Academy while Bishop and her husband, Jake invite Gibbs and the team for a special dinner.
Prologue
At a lone forest with owls even hooting in the background, leaves are heard rustling.
It then shows a bloodstain being left behind in the snow as someone drags a bag along the ground.
The man then grunts, turning the bag before it reveals that an African-American man was inside the bag with the other man lying on the ground, dead, his lifeless eyes staring up at the sky.
On his hand lies a class ring from an Academy.
It closes up on the hand as time begins to pass.
The camera pulls over again as sirens are heard wailing in the background with a man yelling, "Hey! Over here!" and as a SUV, presumably the park police arrives, the unknown man rushes forward, stating that he's the guy who called.
It then cuts of a shot of the man talking to the police while the body lies there, untouched.
Act One
Act Two
Act Three
Act Four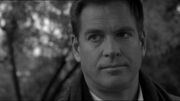 Act Five
Trivia
This is the last episode of the entire NCIS series to be written by Christopher Silber as Silber left the NCIS writing team and subsequently joined the NCIS: New Orleans writing team, serving as a writer, producer and showrunner. Following NCIS: New Orleans's cancellation with the final episode airing in May 2021, Silber then joined NCIS: Hawaii as a co-creator, writer and executive producer.
Cast
Series Regulars
Recurring Cast
Other Cast