Callen, G. is the twenty-fourth episode and season finale episode of NCIS: Los Angeles Season 1.
Synopsis
OSP races against time to stop a brutal, murderous cabal from launching a deadly nuclear war in the Middle East while Callen discovers some answers concerning his mysterious past and true identity.
Plot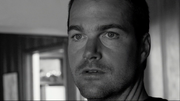 Major Events
Callen finds evidence suggesting that he has a sister named Amy.
It's revealed that Trent Kort and Callen know each other, having worked together in the past.
Callen later discovers that his "sister" is in fact a woman named Hannah Lawson and the real Amy had drowned in an accident when she was eleven years old.
Trivia
This is also the last episode of the entire NCIS: Los Angeles series to have Peter Cambor listed as one of the main cast members. In all future appearances, he would be credited as a Special Guest Star.
It is interesting to point out that during Callen's visit to Amy's foster home, when he stares at the wall containing the photos of the children who have lived at this home, a lot of the photos are used two or three times.
Charlie O'Donnell and Lily O'Donnell are the children of series regular Chris O'Donnell (G. Callen).
Cast
Series Regulars
Other Cast