Boba Fett Returns - The Loop
Play Sound
Capitol Offense is the third episode in NCIS Season 6 and also the 116th episode of the entire NCIS series.
Synopsis
When a Lieutenant Commander who was having an affair is found dead, Gibbs finds that the affair was with old friend Senator Patrick Kiley, a former Marine officer who served with Gibbs. It seems like a simple case for the team but not everything is what it seems while Abby embarks on her own personal investigation to find out who stole her cupcake.
Prologue
Two cyclists are busy cycling through a forest, obviously in competition with each other as they pass through various areas of the forest.
As they grab a breather, Tiffany (Capitol Offense) wonders if her companion, David can't keep up.
David states that ten bucks will say that he'll beat Tiffany to the car.
"Make it 20", Tiffany says.
With that, the two resume their cycling, David in the lead and Tiffany behind him.
David takes a wrong turn and after crashing into a log, ends up falling into a lake or swamp.
Seconds later, Tiffany arrives, obviously careful not to fall for the same trick. She then calls out to David that she guesses that he now owns her twenty bucks.
In the swamp or lake, David just rubs his nose while behind him, a body emerges.
"Oh my God", Tiffany states before calling David's name.
This has David turning back, glancing at the body and then going "Whoa" as he jumps back, startled.
It then cuts to the body which is female and wearing the uniform of a Navy Lieutenant which is now floating on the water.
Act One
Act Two
Act Three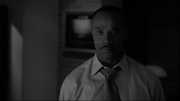 Act Four
Act Five
Cole Erickson's apartment has now become a crime scene and there's a hive of activity as Ducky removes the plastic bag from Erikson's head while the others begins processing.
McGee tells Gibbs that the suicide note was written and printed on the computer and as Gibbs bags something, DiNozzo wanders in, announcing that Erickson's Grand Cherokee is still in its parking space and that it's being towed to the Evidence Garage before telling Ziva it looks like she was wrong about Reed Talbot.
"He's still a crumbbag", Ziva says, causing Tony to throw his hands up in dismay, presumably at the fact that Ziva got the word, "crumbbag" mixed up with "scumbag".
Cast
Series Regulars
Recurring Cast
Other Cast