Cobra Kai Season 4 - The Loop
Play Sound
Child's Play is the ninth episode of NCIS Season 7 and the 147th episode of the entire NCIS series.
Synopsis
When a Marine is found dead hanging from a series of sticks in a corn field, his right hand missing, NCIS investigate and are led to a military intelligence base that uses genius children to crack military codes with the team soon realizing that one of the youngsters who's there is creating collages that apparently have military secrets in them and that she may be in grave danger...
Prologue
Two youngsters are running through a huge cornfield, laughing, the two obviously enjoying themselves.
"You tired?", one boy calls.
"You can't catch me", another shouts.
As they continue running, the first kid yells that the other kid isn't getting away before stating, "Give up. I got you!".
"Do not", the Younger Boy calls back.
"You're done", the Older Boy shouts.
"Am not", the younger kid replies.
"Here I come", the older kid yells.
However, the younger kid later crashes into a pole that sends him to the ground.
This gives the older kid a chance and he slaps the younger kid, stating "Tag. You're it".
Still on the ground, the younger kid wonders what that is.
His friend states that it's a scarecrow and that they should come on because he's It.
"Wait", the younger kid states. "That".
It then cuts to show a dark red liquid dipping down.
As the younger kid gets to his feet, the older kid states, "Let's just get out of here".
However, the younger kid grabs a small branch and removes the scarecrow mask, revealing that there's an adult man hanging from the pole.
The two then flee in terror.
It then cuts back to the pole showing the man hanging from it, dead, blood on the lower side of his chin.
Act One
Act Two
In the bullpen, McGee discuss Marine Corporal Travis Lozada and how he had a spotless service record with multiple tours before being awarded with a very desirable duty post guarding the Sattler Institute for Strategic Studies and Analysis.
Act Three
Act Four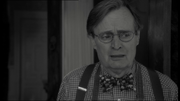 Act Five
Major Events
The team celebrate Thanksgiving.
Trivia
The clip Angela uses to identify flaws in the group of Marines who were ambushed by the Taliban is footage taken from Call of Duty, Modern Warfare 2.
Cast
Series Regulars
Recurring Cast
Other Cast