Corporal Punishment is the tenth episode of NCIS Season 5 and also the 104th episode of the entire NCIS series.
Synopsis
A Marine being treated for Post-traumatic stress disorder escapes the hospital he was in and goes on the run, forcing the NCIS team to search for him. When they do eventually find the missing Marine, the team find themselves engaging in a brutal fight with the Marine that leaves DiNozzo, McGee and Ziva injured. As the team investigate, they discover that the Marine was the unknowing subject of a secret super soldier experiment until the team later discover new information that changes the entire investigation.
Prologue
Dr. Adrian De La Casa walks across the grounds of Bethesda Naval Medical Center and heads for his car.
As he gets in, someone else punches the window of the driver's seat, startling De Le Casa with the person sliding into the driver's seat, forcing De La Case into the passenger seat.
Seconds later, the car drives off into the night.
Meanwhile, back at the hospital, alarms are being raised and in a room, there's scenes of destruction as a person on the speakers state that this is a red alert as various medical personnel prepare to get things contained.
It then cuts to a cell room where orderly Chris Jenkins is sitting against a wall, a cut on his head.
Act One
Act Two
Back in the bullpen, Tony remarks that when they're dealing with a guy on the run, they've got to climb inside his head, think his thoughts and wonder what the guy would do or where he would go.
"Did a one-armed man murder his wife?", McGee asks.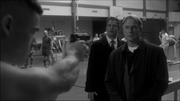 Act Three
Act Four
Act Five
Cast
Series Regulars
Other Cast