Daughters is the 24th episode of NCIS Season 16 and also the 378th episode of the entire NCIS series.
Synopsis
Former FBI Agent Tobias Fornell who's now a Private Investigator pleads with Gibbs to do whatever is necessary to take down drug dealers and suppliers in the area after his daughter, Emily Fornell, is hospitalized from an opiate overdose while Gibbs is haunted by the personal aspects of the case and also his own history with vigilante justice.
Prologue
Act One
Act Two
Act Three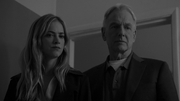 Act Four
Act Five
Major Events
Emily Fornell was revealed to have become a drug addict largely because of Tobias's overprotective actions to his daughter.
Ziva David is revealed to be alive and shows up to Gibbs' basement to inform him his life is in danger.
It's revealed that Kasie is aware of Torres's feelings towards Bishop.
Trivia
Cast
Series Regulars
Recurring Cast
Other Cast