Boba Fett Returns - The Loop
Play Sound
Dead Letter is the 23rd episode of NCIS Season 13 and also the 305th episode of the entire NCIS series.
This episode also marks the first appearance of future MI6/NCIS liason officer Clayton Reeves.
Synopsis
In the aftermath of the attack that has left one of the NCIS team's allies badly wounded, the NCIS team redouble their efforts to track down disgraced British spy, Jacob Scott, who's seeking revenge against NCIS with assistance coming from both the FBI and MI6 in the form of two new agents but everything is not what it appears to be.
Prologue
Act One
Act Two
Act Three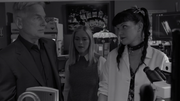 Act Four
Act Five
Major Events
FBI agent Tess Monroe and MI6 officer Clayton Reeves are both introduced for the first time with the two assisting NCIS with the case.
Trent Kort returns and it's revealed that he has been fitted with a glass eye to replace the one he lost during his fight against Lieutenant Jonas Cobb, the Port-to-Port killer.
Fornell remains in a coma and also badly wounded with Gibbs stepping in and becoming the executor of the will after it's revealed that Fornell had made a "Do Not Resuscitate" clause following the murder of his ex-wife, Diane Sterling.
The team soon discover that Jacob Scott is in fact innocent and that Kort is the one who framed Scott while also leaking nuclear intelligence to the Russians. Kort was also responsible for killing NCIS Agent Kevin Dresser and former NCIS Director Thomas Morrow, than killing a former MI6 agent and wounding Fornell in Gibbs house, framing Scott again.
It's also revealed that Kort is no longer a CIA agent, having been fired from the agency in the previous year.
The team are later left stunned after discovering that a farmhouse Eli David had owned has been burnt down, presumably destroying files that Eli had collected regarding Kort's actions while leaving the fate of Eli's daughter, Ziva David, a former Mossad Officer and also a former NCIS Special Agent unknown.
Cast
Series Regulars
Recurring Cast
Other Cast