Jurassic World: Dominion Dominates Fandom Wikis - The Loop
Play Sound
Dead and Unburied is the fifth episode in NCIS Season 4 and also the seventy-fifth episode of the entire NCIS series.
Synopsis
The decayed body of a missing Lance Corporal is found in a vacant house that is being auctioned. The team soon discover that the victim was due to be shipped out to Iraq but he never showed up before uncovering a new clue that could change everything- he was engaged to two different women.
Prologue
As she leads a young couple up the path, estate agent Jody Carvell remarks that it's a great neighborhood and that it's very quiet, very private.
She also reveals that the house has an oversized back yard so that's a big plus and that the whole house has been renovated which means that there are upgrades all over which include stainless appliances, air purification systems and that it's a total move-in condition.
As they arrive at the door, Jody begins unlocking the door while stating that the furtinue is rented but if they'd like, she can have the company make them a deal.
The young couple glance at each other, smiling.
As they all head into the main area, Jody tells Amy that she's gonna love the kitchen but first, Jody is going to show them the living room.
As she places a key, Jody states that it has a wall-mounted flatscreen and a gas log fireplace.
She then grabs a big remote of some sort while telling them that they won't believe how easy this is.
"One push of a button", Jody remarks.
She hits a button and on cue, the fireplace springs to life with a fire now on.
"Isn't that cosy?", Jody wonders.
But as she turns around, she jumps in fright and cups her mouth upon seeing a badly decayed body sitting in one of the armchairs.
As the young couple cling to each other in fright, it cuts to Jody who is screaming in fright with her screams echoing.
Act One
The house has now been taped off with the NCIS team having arrived to process the scene.
In the main living room where the victim is, NCIS Medical Examiner Donald Mallard tells NCIS Special Agent Timothy McGee to make sure that McGee gets the back of the victim's head if McGee would be so kind.
"You got it", McGee states and moves to take another photograph, only to collide with NCIS Medical Examiner Assistant James Palmer with the two men instantly apologizing to one another as Ducky states that there's no rush and that their patient isn't going anywhere.
Act Two
Act Three
Act Four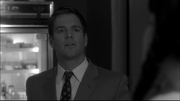 Act Five
Cast
Series Regulars
Recurring Cast
Other Cast