Doctor Strange in The Multiverse o Madness - The Loop
Play Sound
Deception is the thirteenth episode in NCIS Season 3 and also the fifty-ninth episode of the entire NCIS series.
Synopsis
A Navy Lieutenant Commander in charge of a shipment of nuclear weapons disappears under mysterious circumstances and the possibility that she was abducted results in Gibbs and the team being summoned into the office on a Sunday to save the Commander. During the investigation, they dig into the Commander's life and discover that she was a member of an organisation dedicated to combating online pedophilia and that her intended target might have been responsible for her kidnapping, only to discover that an unlikely figure is truly responsible.
Prologue
In the trunk of a car, Navy Lieutenant Commander Amanda Wilkerson tries dialing a number again on her cell-phone with the number in question being revealed as that of NCIS.
Someone answers the phone and Wilkerson tells them that she needs help but the person urges her to speak up.
Wilkerson then tells them that she's been abducted before the car comes to an abrupt stop, causing Wilkerson to scream and the call to end.
Wilkerson then grabs the phone and dials the number again, telling them who she is.
However, the car comes to another stop as Wilkerson begs for help and for someone to save her.
In the front seat, the masked driver stops the car and gets out before opening the trunk of the car.
Realizing she's been caught and using her last ounce of strength, Wilkerson screams "Help me please!".
It then cuts to Wilkerson who looks very distressed at the situation she's found herself in.
Act One
Act Two
Act Three
Act Four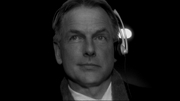 Trivia
When Tony and Ziva locate the car of the missing Lt. Commander, the car is missing the Volkswagen logo which is needed to open the trunk with a key. The logo is there when Ziva is picking the lock of the trunk, suggesting the use of more than one car.
This is one of the few episodes where Ziva isn't seen wearing her Star of David necklace.
This is also on of the very few episodes where there isn't a dead body for the team to investigate.
Tony's reference to "genital cuffs" is from the movie Dirty Rotten Scoundrels.  Likewise, the teenage boys compare Ziva to Salma Hayek's character from Desperado.
Cast
Series Regulars
Season Three Cast
Recurring Cast
Guest Cast
| Name | Portrayed by | Role |
| --- | --- | --- |
| Paul Martino | Phil Morris (actor) | Amanda Wilkerson's C.O. |
| Ross Logan | P. J. Byrne | A manager of Perverts Brought to Justice and also the one responsible for kidnapping and locking Amanda Wilkerson in the trunk of a car. |
| William Lafferty | Eric Lange | A pedophile who later flees after discovering that NCIS are on to him. Attempts to escape the country but NCIS Agents soon arrest him as Gibbs watches on from MTAC. |
| Amanda Wilkerson | Helen Eigenberg | Lieutenant Commander in the United States Navy and also the abduction victim. |
| Jason Geckler | Jesse Plemons | A teenage boy who sold two youngsters Commander Wilkerson's phone. |
| Danny | Zac Efron | Tim's friend and one of the buyers of Commander Wilkerson's cell phone. |
| Tim | Austin Stout | Danny's friend and one of the two teenagers who got a hold of Commander Wilkerson's phone. |
| Chuck Parnell | Gary Kraus | A security guard. |