We're Getting Mutants in the MCU - The Loop
Play Sound
Destiny's Child is the 1st episode of NCIS Season 16 and also the 355th episode of the entire NCIS series.
It is also the Season 16 premiere episode.
Synopsis
With one month having passed since Vance was kidnapped, Gibbs becomes acting director while the NCIS team searches worldwide for their missing Director.
Prologue
Act One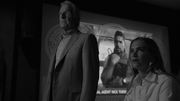 Act Two
Act Three
Act Four
Act Five
Major Events
One month has passed since Director Vance has been kidnapped.
Gibbs steps in as acting director while Vance is missing.
Because of the situation involving Vance's abduction, his daughter Kayla is put under protective custody.
It was revealed that Gibbs and Sloane deduced that the British ambassador Sybil Rigg was in on The Monster's actions, and exploited this by having Sloane pretend to lose her sanity to Rigg so she would unknowingly have The Monster's position as well as Vance's location tracked.
It was revealed that Vance was supposed to sign off on a form regarding the installation of the new AC after the events of "Death From Above", but his absence, as well as Gibbs' refusal to sign anything in Vance's absence, resulted in the AC not being activated.
Trivia
Vance's daughter, Kayla, appears in this episode.
The events of this episode are alluded to in the NCIS: New Orleans Season 5 Premiere "See You Soon", where Gibbs informs LaSalle when asked about Director Vance that the latter's "holding up."
The footage of the strip mall explosion results were reused from the footage of the airport bombing from "Patience".
This is the fifth NCIS episode and first NCIS Season premiere episode to have the credits appeared in the second act.
Opening Title Sequence
Cast
Series Regulars
Recurring Cast
Other Cast