We're Getting Mutants in the MCU - The Loop
Play Sound
Devil's Triad is the tenth episode of NCIS Season 11 and the 244th episode of the entire NCIS series.
Synopsis
The NCIS team investigate when a Marine Corporal is found shot dead and in doing so, discover a connection to the current boyfriend of Gibbs and Fornell's respective ex-wife while NSA Analyst Eleanor Bishop attempts to adjust to joining the NCIS team as a liaison between the NSA and NCIS.
Prologue
In a busy street in Washington D.C., Marine Ron Flegman who's on his cell phone tells the person he's calling at the end to pick up, Flegman obviously desperate.
Flegman then tells the person that it's him and that they need to talk.
As he says that he can explain everything, he stops and glances briefly at a clown that is busy juggling stuff.
Flegman then heads down the street, telling the person to call him before he hangs up while in the background, someone plays "Silent Night" on a saxophone.
Flegman attempts to cross the road, only to find a driver beeping at him.
Seconds later, Flegman heads across the road.
He then arrives into the apartment area where he presumably lives.
After closing the door, Flegman lies against it, obviously relieved.
He then produces his cell phone and studies it as he heads up the steps.
A door is then heard opening, causing Flegman to stop, curious.
The door then closes.
As footsteps are heard approaching, Flegman then heads back down the stairs while as the person gets closer, their shoes are heard squeaking.
Flegman then gets closer but stops.
Meanwhile, a horn is heard beeping and a second later, the visitor is revealed to be the clown that Flegman saw on the street a few minutes earlier.
The clown approaches Flegman before drawing a gun.
"No!", Flegman yells.
Without saying anything else, the clown then proceeds to shoot Flegman straight in the chest with two shots sending Flegman crashing to the ground.
The clown stands there, faintly amused.
It then cuts to an overhead shot of Flegman who lies on the ground, dead, his cell-phone resting near his right hand with his chest wound visible as blood soaks through his Marine hoodie.
Act One
Act Two
Act Three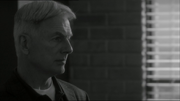 Act Four
Fornell comes down the stairs, on his cell phone, stating that he said everyone and every asset before telling the person on the end of the phone that they've got his daughter for God's sake.
In the bullpen, McGee reveals that they found a camera in the storage locker which must be how Elijah knew NCIS had his money because he saw them collect the evidence.
Major Events
It's revealed that Fornell and Diane are back together.
Cast
Series Regulars
Recurring Cast
Other Cast