Devil's Triangle is the seventh episode in NCIS Season 9 and the 193rd episode of the entire NCIS series.
Synopsis
The team join forces with FBI Agent Tobias Fornell when Gibbs and Fornell's ex-wife, Diane Sterling enlists her exes's help in finding her kidnapped husband, only to discover that an attack may soon take place, sending the team into a desperate race against time to stop the attack before it's too late.
Prologue
It's late-night in Washington D.C.
At a Beltway Burger drive-by with Kill the Alarm- Dance Across the Sky playing in the background, a car pulls into the drive-through.
The worker states, "Welcome to Beltway Burger. Can I take your order please?".
Victor Sterling tells the worker that he'll take a number ten- extra pickles, extra cheese and extra large fries.
Suddenly, the phone rings.
As he picks it up, Victor switches off the radio, answering the phone while putting it on speaker.
"Hey, honey", Victor says.
His wife wonders where he is.
Victor remarks that he's getting off the Interstate.
"Six-fifty", the worker replies. "Next window".
"Like hell you are", his wife replies. "I heard that. You're breaking your diet again".
As he drives up to the main window, Victor insists that he isn't.
His wife complains that Victor's cholesterol is through the roof.
"Honey, really?", Victor wonders.
The wife wonders what he's doing this for and that he promised her he'd take better care of himself.
As this happens, Victor arrives at the window.
"Come on", he grumbles, handing the worker some money as the wife states that they heard what the doctor said and that he'd get it down or he'll be sorry.
Victor protests, stating one burger's not gonna kill him.
"Victor", the wife says.
Victor states that he's got another call coming in and that he'll call her back.
"Victor, don't you dare...", the wife begins but Victor abruptly ends the call.
The worker then emerges, holding the bag with Victor's food.
Victor tells the worker that she's worried about his health.
Seconds later, the worker fires a dart straight into Victor's neck, causing Victor to cry out, startled.
The worker then lowers the bag, revealing that he's holding a tranquilizer gun.
It then cuts to Victor who slumps forward in the seat, unconscious as the drug takes effect.
Act One
Act Two
In his office, NCIS Director Leon Vance talks to Gibbs and Fornell about the two dead bodies, a missing Homeland Security agent and a lot of cash.
Act Three
Act Four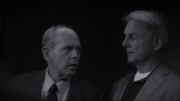 Act Five
Major Events
Cast
Series Regulars
Recurring Cast
Other Cast