Boba Fett Returns - The Loop
Play Sound
Devil's Trifecta is the ninth episode of NCIS Season 10 and the 219th episode of the entire NCIS series.
Synopsis
A Seaman attempts to kill FBI Agent Tobias Fornell, only for Fornell to kill his assassin in self-defense which prompts the NCIS team at the FBI's request to come and investigate the crime scene but the team are left stunned when they soon discover that a figure from Gibbs and Fornell's past is involved in a separate investigation concerning the discovery and arrest of the person responsible for a series of identity thefts.
Prologue
A lone car pulls to a stop beside a pavement, its light dying out down almost immediately.
It then shows that the car is waiting for another car that is currently at a drive-through.
In the main car, the driver flicks a match and while examining the numbers on the packet, lights his cigarette up.
From a distance, the driver blows out some smoke while the drive-through is reflected in his sunglasses.
In the other car is none than FBI agent Tobias Fornell.
A worker hands Fornell his change and his food with Fornell thanking the worker.
As Fornell examines his food from Beltway Burger, the same mysterious car sits there.
Fornell then produces some french fries from the bag and begins eating them.
As that happens, the driver gets out, dropping his still-lit cigarette onto the pavement. He then begins walking briskly and firmly, his footsteps full of determination before he stops in front of Fornell who looks up.
The driver then draws a gun.
Fornell barely has time to react before two shots emerge, creating a crack in the car's window.
Seconds later, Fornell responds by firing back with the driver collapsing to the floor, dead.
It then cuts to the inside of the car where Fornell lowers his weapon and begins breathing heavily, obviously stunned at what's happened.
Act One
Act Two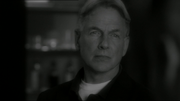 Act Three
Act Four
Act Five
DiNozzo arrives into the bullpen and tells Gibbs that Ducky confirmed that Lambert died of multiple stab wounds.
Ziva then picks up by telling them that Fornell is still taking statements.
Major Events
Diane Sterling returns to help the NCIS team on a case.
It's later revealed that Diane is actually an agent working for the IRS.
Cast
Series Regulars
Recurring Cast
Other Cast