Jurassic World: Dominion Dominates Fandom Wikis - The Loop
Play Sound
Eleanor Raye "Ellie" Bishop is a former NSA analyst and a former NCIS Special Agent as well as a member of the NCIS Major Case Response Team.
She is also the daughter of Barbara Bishop, sister of John, George and Robert Bishop, the ex-wife of Jake Malloy and the ex-girlfriend (almost fiancée) of deceased civilian Qasim Naasir.
In May 2021, Bishop resigned from NCIS for good to begin working on a long-term undercover operation with Odette Malone.
Biography
Pre-Series
Originally from Hinton in Oklahoma, Bishop was born in 1985 and is the youngest of four children born to an unnamed father and Barbara Bishop with Bishop's three older brothers named George, John and Robert.
After graduating from college she joined the NSA where she met Jake Malloy with the two of them marrying some time later.
During her time at the NSA, Bishop discovered the activities of terrorist Benham Parsa and began working to such an extent that she developed an obsession with him. This had her superiors worried and eventually concerned for her well-being, and they took her off the case.
NCIS Season 11
Bishop made her debut appearance in the NCIS Season 11 episode, Gut Check where her boss, NSA Special Agent Chad Flynderling introduced her to NCIS Special Agents Leroy Jethro Gibbs and Anthony DiNozzo Junior.
NCIS Season 12
NCIS Season 13
NCIS Season 14
During a series of flashbacks in A Many Splendored Thing, it's revealed that Ellie and Qasim's first date was at a bowling alley. Qasim also tried to propose to Ellie but she turned him down telling him she wasn't ready to get married again. They then went on a date to the same bowling alley where they had their first date because if she had accepted he wanted to celebrate there.
Ellie hid her feelings behind her brain, statistics, and matrices. Even going so far as quantifying her relationship, and telling Qasim that she spent 65% of her free time with him and that they had gone on 104 dates. Qasim countered her, insisting that love can't be reduced to a binary code.
When Qasim was killed in Willoughby Ellie had brought a card with photo booth pictures of the two of them and a big "YES" inside a drawn heart, implying she had intended to accept his proposal after all.
NCIS Season 15
NCIS Season 16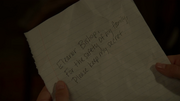 Ellie was the first person to realize that Ziva David was still alive and that her death had somehow been faked. In the episode She, Ellie found an office Ziva had been renting since she was a Probationary Agent with NCIS in 2005. The office had several shelves with notebooks where she had written down her thoughts and feelings surrounding the cases she worked with NCIS. The notebooks helped to solve the case, but there was also a letter at the end of that specific notebook the kidnapping victim's mother had dictated to Ziva because she wanted it read to her daughters killer/kidnapper. Ellie took the notebook to the hospital with the intention to read the letter to him, only to be told someone had already been there and read it for him.
Ellie returned to Ziva's rented office only to find Ziva's coat, scarf, and a handwritten note with a plea to keep Ziva's secret.
NCIS Season 17
At the end of The North Pole, Odette told Ellie that she saw a certain promise in her, and offered to give her specialized training. While Odette didn't specify what kind of training, it's probably safe to assume it had something to do with Odette's past as an instructor at a CIA 'spy school'.
NCIS Season 18
Occupation
Prior to joining NCIS, Bishop worked as an analyst for the NSA (National Security Agency) although when she first began working at NSA remains unknown. She met her ex-husband, Jake Malloy there.
She later joined NCIS, first as an liaison officer to NCIS via NSA before being promoted to NCIS Probationary Agent.
Following the capture of both Leroy Jethro Gibbs and Timothy McGee in Paraguay, Bishop effectively became both the senior field agent and the special agent in charge of Gibbs's depleted Major Case Response Team.
Personality
Bishop is a cheerful, outgoing and fun loving person. She usually makes friends with people quickly and is described by many to have a big heart. Though not as reserved as her predecessor Caitlin Todd and as outgoing as Ziva David, Bishop is more or less a mix of the two. Initially, Bishop based her actions and judgements on logic rather than her inner feelings, which changed when she joined NCIS and started working with Gibbs, McGee and Tony. Bishop is also a fan of 'nerdy' things, as Tony and Torres mentioned, like Star Wars and Comic-Con.
Bishop's personality undergoes a very drastic change after a series of life changing decisions. The first is when her marriage with Jake deteriorates, leading to Jake having an affair and Bishop leaving him, then the death of her boyfriend (nearly fiancee) Qasim at the hands of a terrorist, and the death of her closest friend, Clayton Reeves. These losses change her from the fun loving outgoing girl to the matured and cold demeanor that she has later in the series. Like the others, she considers her NCIS team and staff her family and will become agitated and angry if anything happens to them, as seen when she (speculative/supposedly) killed Xavier Zolotov, the guy who hit Torres with his car while they were running together, causing Torres to be hospitalized in critical condition.
Physical Appearance
Bishop is a Caucasian woman in her thirties with a small, skinny frame, long light blonde hair, and brown eyes.
In her first appearance in Gut Check, Bishop wore a woolen jumper and slightly torn jeans with holes visible in them as well as brown boots along with a caramel-colored jacket.
Since joining NCIS as a Liaison between NCIS and NSA and eventually, as a full-time NCIS Special Agent, Bishop has continued wearing a similar style including jackets, jeans, trousers, and boots.
Whenever she is out in the field, Bishop wears the traditional NCIS windbreaker or coat while also donning the NCIS cap.
She also ties her hair up and like her predecessors (Caitlin Todd and Ziva David), places her own hair which is often tied up into a bun directly under the cap itself so that it sticks out at the end of the cap.
Like her colleagues, Bishop wears a holster containing her SIG-Sauer, and similarly to Gibbs and Tony, Bishop also wears the holster and her NCIS badge on her right hip.
Similarly to Agent Timothy McGee, former NCIS Director Jennifer Shepard, and OSP Technical Analyst Nell Jones, Bishop wears her watch on her right wrist and like Shepard and Jones, Bishop is right-handed while McGee is left-handed.
When she first joined the team, Bishop was seen wearing her wedding ring. However, she stopped wearing it after Season 13's Spinning Wheel where she told Jake their marriage was over because of him cheating on her.
From the NCIS Season 15 episode, Skeleton Crew onward, Bishop started wearing a single gold necklace around her neck and a single gold bracelet of some kind around her left wrist.
In Fake It 'Til You Make It, Bishop began wearing a pendant with a gold chain around her neck in addition to the gold necklace she also wore.
From Boom to Toil and Trouble, Bishop wore two pendants along with the gold necklace around her neck.
While in the field, Bishop wore an NCIS windbreaker with the words "NCIS Federal Agent" on the back and an NCIS cap.
For the first five years as an NCIS Special Agent, Bishop carried a SIG-Sauer P239 as her personal sidearm.
From NCIS Season 17 onward, she replaced it with the SIG-Sauer P225 and later the SIG-Sauer P225-A1, using both as her weapon in the field.
Abilities
As an NSA analyst, Bishop was originally trained to determine possible threats and also break any possibly encrypted information.
Now an NCIS Special Agent, Bishop has undergone training, enabling her to use her NSA skills in conjunction with the skills associated with being an NCIS agent, including processing crime scenes as well as arresting and interrogating possible suspects.
She speaks six different languages, fluent Pashto being one of them, although she is not familiar with every dialect.
She has the knowledge of hand-to-hand combat, as of Head of the Snake.
Like her predecessor Caitlin Todd, she is skilled at drawing and painting.
Trivia
Before joining NCIS as a full-time agent, Ellie served as an NSA liaison similar to her predecessor, Ziva David who originally served as the Mossad liaison and also Marty Deeks who served as the LAPD liaison on NCIS: Los Angeles, twelve years after his first appearance in NCIS: Los Angeles Season 1 before he was let go from the LAPD and subsequently became an NCIS Investigator halfway through NCIS: Los Angeles Season 12.
Appearances
For a more detailed list, see Eleanor Bishop/List of Appearances.