We're Getting Mutants in the MCU - The Loop
Play Sound
Engaged Part 1 is the eighth episode in NCIS Season 9 and the 194th episode of the entire NCIS series.
Synopsis
The NCIS team investigate when a C-130 carrying the remains of three Marines who died fighting in Afghanistan crash-lands into a field. As the team dig deeper to determine the cause of the crash, a shocking revelation soon emerges: one of the Marines whose body was supposed to have been on the plane may actually still be alive.
Prologue
A lone C-130 flies through the night sky.
Inside the main area are six coffins, all draped with the flag of the United States of America as two Marines sit opposite the coffins, guarding them.
Walker, an African-American Marine sits there, lost in thought.
He glances over at his companion, a fellow Marine who just sits there, pre-occupied.
Walker then looks down at the coffins and gets up, heading over to the area.
The other Marine watches as Walker tucks the end of the flag into the coffin.
Seconds later, an explosion rips through the area, sending Walker to the ground and the other Marine hanging onto some ropes.
"Mayday, mayday", a man, presumably the pilot yells. "This plane is declaring an emergency. Partial engine failure".
Outside, the plane is descending at a rapid rate, its right wing already on fire.
"Walker!", the other Marine yells.
Outside, the left side of the plane explodes, flames consuming the left wing.
Inside, one of the coffins slides off course as both Marines lie in the corner, stunned.
It then cuts to Walker who yells to his companion that they're going down.
Act One
Act Two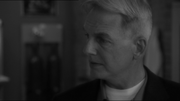 Act Three
Act Four
Act Five
In MTAC, Gibbs is talking to Captain Quincy, obviously stunned that insurgents were on the inside and in the school.
Quincy isn't surprised but Gibbs remarks that NCIS was surprised before wondering if Quincy was planning on telling anyone.
Major Events
It's revealed that there is a chapel on the Navy Yard.
Cast
Series Regulars
Recurring Cast
Other Cast