Ex-File is the third episode in NCIS Season 5 and also the ninety-seventh episode of the entire NCIS series.
This episode also marks the final appearance of Lieutenant Colonel Hollis Mann up until the Season 11 episode, Kill Chain (episode).
Synopsis
When a Marine Captain is found dead on an Army base with one of the witnesses being Gibbs's third ex-wife, the NCIS team open an investigation to find the killer with Gibbs's past and present relationships threatening to collide with each other.
Prologue
Stephanie Flynn and Jill Reynolds arrive back from a conference with Jill thanking Stephanie for picking her up.
Once they're inside, they head for the study where Jill's husband, Trent Reynolds is and ask him to turn down the blaring music which Jill eventually turns down.
Stephanie edges closer to say hi to Trent but gets a shock where she discovers that he's dead with an arrow having gone straight through the upper side of Trent's body.
It then cuts to Stephanie who looks greatly horrified at the discovery.
Act One
Act Two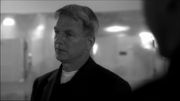 Act Three
Act Four
Major Events
Ziva is seen wearing a silver watch for the first time, a watch similar to what Kate wore during her tenure on the team.
McGee is also seen wearing a sports-styled watch for the first time.
Trivia
When Abby is exiting the computer area to go back into the main section of her lab and just before Fred Rinnert asks her if she needs help, if you pause it, you can clearly see a reflection of the cameraman and the boom mike man in the glass doors.
Cast
Series Regulars
Recurring Cast
Other Cast