Boba Fett Returns - The Loop
Play Sound
Family First is the 24th episode of NCIS Season 13 and also the 306th episode of the entire NCIS series.
This episode also marks the final appearance of Michael Weatherly as NCIS Special Agent Anthony DiNozzo Junior and the final appearance to date of Sarah Clarke as FBI Special Agent Tess Monroe.
Synopsis
In the aftermath of the attack on the David farmhouse that has resulted in the assumed death of former NCIS Special Agent Ziva David, greatly devastating the NCIS team, they continue working alongside their counterparts in the FBI and MI6 as they all conduct an international manhunt for disgraced agent Trent Kort while Tony finds his life being turned upside down by an unexpected revelation.
Prologue
Act One
Act Two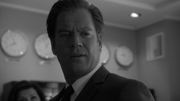 Act Three
Act Four
Act Five
Major Events
It's revealed that Ziva is presumed to have been killed in the mortar attack on the David farmstead.
Mossad Director Orli Elbaz later returns and reveals that after Ziva left NCIS, that she and Tony had a child together, a little girl named Tali.
Fornell regains consciousness although it's revealed that he needs extensive therapy before he fully recovers from the injuries he sustained during the attack at Gibbs's house.
The NCIS team along with FBI agent Tess Monroe later track down and subsequently kill disgraced CIA agent Trent Kort in a stand-off when Kort attempts to shoot MI6 officer Clayton Reeves.
Tony later resigns from the NCIS team for good, giving up his position as Senior Field Agent of the team as he wants to devote his time to taking care of his daughter.
With Tony's resignation, McGee is promoted to Senior Field Agent, becoming the second-in-command of the NCIS Major Case Response Team.
Trivia
This is the second season finale episode next to the NCIS Season 11 finale episode, Honor Thy Father (episode) not to end on a cliffhanger.
Cast
Series Regulars
Recurring Cast
Other Cast