Jurassic World: Dominion Dominates Fandom Wikis - The Loop
Play Sound
Family Secret is the sixteenth episode in NCIS Season 3 and also the sixty-second episode of the entire NCIS series.
Synopsis
The team investigate when an ambulance carrying the body of a Marine who recently died in an accident explodes without warning. However, things take a turn when Ducky confirms that the DNA lifted from the body doesn't match the dead Marine, resulting in the team in launching an investigation as to who could have been responsible for the ambulance's explosion and the reasons behind it.
Prologue
Jeff Beilsman and Seth Patterson emerge from a hospital morgue, wheeling the body of Lance Corporal William Danforth Jr into the waiting ambulance while still talking about a woman that Jeff is interested in.
The drive is short-lived when Seth smells something with J.B realizing that it's gas.
The two then turn around and see that the oxygen tank that is next to the body is on fire.
Immediately, the two paramedics flee the ambulance just as it explodes.
It then cuts to show that the ambulance is now completely engulfed in flames.
Act One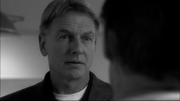 Act Two
Act Three
Act Four
Trivia
This is the only episode of the entire NCIS series where Gibbs is seen headslapping himself.
The scene of Ziva getting a headslap from Gibbs would later reappear in a flashback in Hiatus Part 2 (episode).
This is also the first episode where Tony and Ziva learn of McGee's sister. She was officially introduced to the audience in Red Cell (episode).
The bar where Miller and Danforth fought, the Gold Monkey, was likely a nod to the early 80s action show Tales of the Gold Monkey, created and executive produced by Donald P. Bellisario, the creator of NCIS.
The song playing during the game of Basketball that Tony was playing is "Name of the Game" by Crystal Method.
During the episode, Tony makes a reference to Gheorghe Zamfir, a Romanian pan flute musician who is best known for playing an expanded version of the traditional Romanian-style pan flute (nai) of 20 pipes to 22, 25, 28 and 30 pipes to increase its range, and obtaining as many as eight overtones (additionally to the fundamental tone) from each pipe by changing the embouchure. As such, Zamfir's nickname is "The Master of the Pan Flute" which is what Tony says to Gibbs while Tony is listening to music from McGee's iPod.
Cast
Series Regulars
Season Three Cast
Recurring Cast
Guest Cast