Fatima Namazi is an NCIS Special Agent assigned to the NCIS Office of Special Projects Team in Los Angeles, California.
Originally, Fatima helped the team on different occasions and desired to join the NCIS Field Office in Washington DC until she later changed her mind and chose to remain in Los Angeles, having become a permanent member of the OSP team.
Biography
Pre-Series
NCIS: Los Angeles Season 10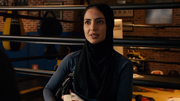 NCIS: Los Angeles Season 11
NCIS: Los Angeles Season 12
Personality
Physical Appearance
Fatima is a woman with long brown hair that she keeps concealed under her hijab due to her being a devout Muslim and brown eyes.