Jurassic World: Dominion Dominates Fandom Wikis - The Loop
Play Sound
Friends and Lovers is the fifteenth episode in NCIS Season 4 and also the eighty-fifth episode of the entire NCIS series.
Synopsis
The NCIS team investigate when the body of a Navy sailor is found in an abandoned restaurant with the team believing that the sailor might have been the victim of a serial killer, only to discover that there's more to both the victim and the case than meets the eye.
Prologue
At an empty and abandoned restaurant, Mary Elizabeth Donahue remarks to her boyfriend, David Cross that when he told her they had reservations, Mary was picturing something a little more upscale.
David is surprised that she doesn't recognize it.
"Should I?", Mary wonders.
David tells Mary to think back.
Mary just nods.
As they head into the abandoned restaurant, David cannot believe that Mary forgot.
"Oh my God", Mary says before turning around and saying that this is where David's grandmother choked to death on veal.
"No", David says.
David heads over and tells Mary to picture this: a small water foundation right there and that they sat right there.
At Mary's smile, David remarks that she does remember.
"That we met here?", Mary says before stating that she does remember and she also remembers that it was over ten years ago.
David remarks that he guesses that it's kind of a long time to date.
"Four's long", Mary says. "Twelve?".
"Pathetic", David replies. "I know".
He admits that he should have done this a long time ago so..
He then opens a box and it's shown that there's an engagement ring resting inside it.
Kneeling, David says, "Mary Elizabeth Donahue, will you..?".
But David stops upon seeing something.
Mary tells David that he can do it and that it's only four simple words.
David, now gagging silently points.
Mary turns around and sees what he's looking at.
In the corner is the dead body of an unknown man which is also covered in maggots.
Mary screams and flees, knocking David over.
It then cuts to show the engagement ring which is now lying on the floor with the dead body in the distance.
Act One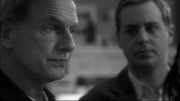 Act Two
Act Three
In the morgue, Ducky tells Gibbs that Abby analyzed the contents of Petty Officer Davidson's stomach and that they now know how the poison was administered.
Act Four
Cast
Series Regulars
Recurring Cast
Other Cast