Wiki Targeted (Entertainment)
Play Sound
Grisha Alexandrovich Nikolaev

 
Occupation
Affiliation
Rank / Title

 ●
  Federal Agent
  NCIS
  Supervisory Special Agent
            ●     NCIS: OSP       Special Agent in Charge

| | | | |
| --- | --- | --- | --- |
|  ● |   Federal Agent |   DEA |   Special Agent |

| | | | |
| --- | --- | --- | --- |
|  ● |   Federal Agent |   CIA |   Special Agent |

| | | | |
| --- | --- | --- | --- |
|  ● |   Federal Agent |   FBI |   Special Agent |

Portrayed by:
Chris O'Donnell
Kyle Michael Dietz- (young G. Callen in flashbacks in "Pushback").
Charlie O'Donnell- (young Callen in "Callen, G.").
Finley O'Donnell- (young Callen in a flashback in "Tin Soldiers").
C.J. Valleroy-(Callen aged fifteen/teenage Callen in flashbacks in "Rage").
 First Appearance
 Last Appearance
List of Appearances
Grisha Alexandrovich Nikolaev or G. Callen (G. or Callen to his NCIS colleagues) is an NCIS Special Agent and also a member of the Office of Special Projects Team in Los Angeles as well as the lead agent of the OSP field team and partner of fellow NCIS Special Agent, Sam Hanna.
Biography
Pre-Series
Callen was born in Romania on March 11, 1970 to a Russian father, KGB Major Nikita Alexsandr Reznikov and Clara Callen, a half-Roma CIA agent. He had an older sister named Amy.
Clara's father had killed many members of the Comescu family, which led to a bloody feud between the two families. In retaliation, the Comescu family killed Callen's grandfather, George Callen, and Clara attempted to flee to the U.S with her two children.
Unfortunately, the Comescus still held a strong, undying grudge against the Callens, and two assassins working for the Comescu family killed Clara while they were awaiting the arrival of Henrietta Lange at a beach. Hetty, at that time an officer with the CIA, had been Clara's handler. She had been dispatched to help Clara and her children, but she arrived too late. The second assassin distracted young Grisha Callen by giving him a toy soldier.
The trauma associated with these events resulted in young Callen suppressing the memories from his subconscious for many years.
Callen and his sister, Amy, were brought to the U.S. by Hetty after the death of their mother and were placed in separate orphanages.
In 1975, at the age of five, Callen was removed from the orphanage where he had originally been placed and was transferred to the foster care system run by the State of California. His older sister Amy remained in the orphanage where she had been placed.
During the thirteen years he was a ward of the State of California, Callen was placed in over thirty-seven foster homes. He also experienced various problems in the foster homes he was in, which in turn left him emotionally damaged and unable to trust anyone whatsoever.
While Callen was a teenager, he would continuously get in trouble. He ran away from his last foster home, robbed a storage locker and was caught. He was taken to juvenile prison for 3 weeks, where he was constantly beaten by the guards for being a smart mouth. He escaped from juvie and stole a car, only to crash into a pole on a suburban street and got arrested again. It was at this accident that Hetty Lange made her first appearance in Callen's life. She "rescued" him and took him under her wing. She later worked with and trained Callen.
Upon turning eighteen, Callen enlisted in the United States Army although his history and what rank he held remain unknown. Some time either before or after that, he volunteered as a wildlife firefighter.
At the age of twenty, Callen fired a gun for the first time.
Following his military service, Callen became a federal law enforcement officer serving at various times with the Central Intelligence Agency (CIA), the Drug Enforcement Agency (DEA), and the Federal Bureau of Investigation (FBI) before joining NCIS.
At some point during his tenure at NCIS, Callen presumably conducted assignments or worked at other locations before being reassigned to the Office of Special Projects in Los Angeles where he also went through a series of partners before he was ultimately partnered with Sam Hanna.
NCIS Season 6
Callen made his debut appearance in the NCIS Season 6/NCIS: Los Angeles backdoor pilot episode, Legend (Part 1) (episode).
He was introduced ignoring a call from his boss, NCIS Special Agent Lara Macy before he spoke to his old friend, fellow NCIS Special Agent Leroy Jethro Gibbs.
The two spoke for a while about the past they had shared together although they were interrupted by a young Russian woman cycling by.
After they had finished, Callen left to go get ready for the second undercover operation he would play a main role in.
NCIS: Los Angeles Season 1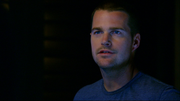 Callen appeared in the NCIS: Los Angeles Season 1 premiere episode, Identity (episode) where he was first seen in a small room, presumably at a B&B, remembering the near-fatal shooting. It was shown that he had been left with permanent scars on his back as a result of being shot four months earlier.
He then proceeded to get dressed and ultimately leave the B&B, heading to Venice Beach where he bought coffee from a local vendor just as Sam arrived in his Challenger.
NCIS: Los Angeles Season 2
NCIS: Los Angeles Season 3
In the Hawaii Five-0/NCIS: Los Angeles Crossover Episode, Callen traveled to Hawaii with Sam after learning that Dracul Comescu, who was now on the NCIS: LA most wanted list, was seen in Hawaii.
Hawaii Five-0 Season 2
NCIS: Los Angeles Season 4
NCIS: Los Angeles Season 5
NCIS: Los Angeles Season 6
In Spiral, Callen was undercover as 'Jimmy the Mail Man' when he and many other workers where taken hostage in Wyatt Tower. He is later exposed to a chemical bioweapon by Karen Ward and he instantly seals himself inside the bio-lab to save everyone else. He starts coughing up blood immediately as Sam watches helplessly from the order side of the glass. The CDC take him back to their head quarters in Druid Hills, Georgia where it is revealed that there is an antidote for the virus and Callen is successfully cured.
NCIS: Los Angeles Season 7
In Active Measures, Callen goes dark and works with Anatoli Kirkin in the hopes of getting information on Arkady's location after the OSP team had to abandon him in Russia. He even went so far as to run away from Hetty, which resulted in her tazering him. He eventually got the information he needed with the help of his team.
In Command and Control, Callen & Sam are forced to do Chad Brunson's (Tyler Brunson's brother) dirty work as part of Chad's revenge plan on the guys for killing his brother. He forces them to co-operate by threatening innocent civilians with bombs. The OSP team successfully thwart his plan & shoot him down, but not before Chad reveals that NCIS has a mole.
In Angels and Daemons (episode), Sam is upset with Callen for forgetting to cancel their Monday car pool, leading Sam to be late for work as he was waiting for Callen but Callen was already at work. It's then revealed that Callen is keeping an eye on Joelle and running back ground checks on her new potential boyfriend. Later on in the Boat shed, Callen and Sam yet again discuss Joelle but the discussion is interrupted by Wilson Rowe, Powell's lawyer. At the end of the episode, Sam & Callen discuss Joelle once more, with Callen admitting that he does have some regrets over breaking up with Joelle but it's for the best. He and Sam leave the bullpen engaging in a good old fashioned argument.
In Matryoshka, Part 1, the OSP team goes undercover with Anna Kolcheck at a Russian mobster's party in order to get the Russian prison logs so that they can find Arkady. At one point, Anna & Callen make out in order to distract the security guards long enough for Sam to sneak in. Once Callen, Sam & Anna are in Russia, Anna & Callen bond on the couch about their dads, or lack thereof, whilst they were growing up. Callen points out, that although they both didn't have a father growing up, at least Anna had a name.
In Matryoshka, Part 2, after Callen, Sam & Anna have rescued Arkady and CIA agent, Randall Sharov, they meet with the CIA contact known as Garrison. He takes Sam, Callen, Anna, Arkady & Sharov into his house to take shelter from the Russians. Callen finds one of the coins, that he knows were used by his father to smuggle refugees out of the country, in the house and grows suspicious of Garrison. After they journey on horses to their new extract point, Garrison asks Callen if he knows who he is. Callen says he thinks so. Garrison tells him he knows so much about him and has so many things to tell him, but it will have to wait until another time. The shake hands and Garrison farewells him by his full name, Grisha Aleksandrovich Nikolaev.
NCIS: Los Angeles Season 8
When Callen is not solving cases or covering with a mole inside the OSP, he is dealing with a problem he never expected to have: a living family. His father, now in the U.S., had another lover after Grisha and Amy's mother, and she had a daughter, Alexandra Reynolds. Despite being a company based in a mole search. That ended up failing Alex's ex, who first knows his son's grandfather when the older man abducts him. This is a strain on Callen's relationship with Nikita. This is partly because Callen has to give up a professional integrity for Nikita to jail and partly because his secrets, first approach to interpersonal communication between himself, separated from Alex and his son; do not work. To start a relationship with Alex, Callen and Nikita appear at Alex's house. When Jake then says the oven has subsided, Alex invites them both to dinner.
NCIS: Los Angeles Season 9
In Season Nine, sometime following the events of the Season Eight Finale, Hetty has disappeared, apparently having retired from NCIS for good and sold most of her properties and taken her boat. Following Hetty's departure, Executive Assistant Director, Pacific Operations Shay Mosley appears to take her place and oversee the team. Throughout the season, Callen and the team are concerned regarding Hetty's disappearance and begin to try and locate her. Eventually, it's revealed Hetty traveled to Vietnam to rescue Harris Keane, a former member of her CIA Unit during the war that Hetty thought was dead but later finds herself captured by a human trafficker and criminal Dang. Hetty's survival was confirmed by a joint operation combining the OSP team as well as Hetty's former CIA Unit in Vietnam, with Keane and Hetty both making it out of Vietnam. Hetty resumes her duties as Operations Manager, but finds difficulty working with Shay Mosley who intends to break up the team.
In the Season Nine Finale, Callen, along with the rest of the team, learn the truth about Mosley's kidnapped son and Callen's promise to help her when they come into contact with a suspect on a current case who is connected to Mosley's former lover, Spencer Williams. Upon learning this information, Mosley sees this as her best chance of finding and getting her son back. Mosley and the team learn they are in Mexico, but the off-the-books Mexico mission to rescue Mosley's son was highly dangerous, putting the team at risk. Even though Deeks is fired by Mosley after confronting her about her unfair, reckless, and disrespectful behavior, Deeks still joins the team on the off-the-books Mexico mission (unsanctioned) to save Mosley's son. However, while the mission is successful, reuniting Mosley with her son and returning them to LA, the rest of the team are struck by an RPG while escaping in their SUV, leaving uncertain who is dead or alive.
NCIS: Los Angeles Season 10
Shortly after the Season Nine Finale, Callen and the team are revealed to have survived the impact that hit their SUV. Kensi is the least injured member of the team, but becomes extremely worried when Deeks remains unconscious following the explosion. The team are forced to separate so Callen & Sam take a dirt bike as far as it can go. After the bike cuts out, they walk through the desert to find safety and shelter. Eventually, Callen & Sam run into a kid who leads them to shelter then finds help, the kid came back with his parents who manages to get to a hospital. Callen & Sam regroup with Kensi, Deeks & Turk and while Callen, Sam & Deeks are in the ER, Kensi & Turk stand guard outside and get ready for a fight from Spencer Williams' men who are hunting them. At the last minute, Mosley confronts Williams with duel wield pistols aimed at him telling him "Stand Down" after telling Mosley "No" she shoots him and tells his bodyguard to call it off because now that he's dead no one's getting paid so they did. Afterwards, the calvary that Hetty sent arrives and evacuate the team to Balboa Naval Hospital.
NCIS: Los Angeles Season 11
NCIS: Los Angeles Season 12
Personality
Having been left psychologically damaged as a result of his upbringing, Callen is a man who sometimes to prefer to work alone, leading others to regard him as a lone wolf which in turn can often clash with his partner, Sam Hanna who as a Navy SEAL believes that they should be working together.
In spite of that, Callen is very dedicated to his work as an NCIS Special Agent and takes any kind of case, especially one concerning a fellow NCIS agent very seriously.
Appearance
Callen is a man in his late thirties, early forties with short brown hair and blue eyes.
Abilities
As an NCIS Special Agent and the leader of the OSP field team as well as a former CIA officer, Callen is a highly skilled agent whose abilities make him a valuable asset to both NCIS and OSP.
Computers
Despite not having an adept for technology, Callen is often seen using computers to either write up reports regarding a case or searching for a missing friend.
Interrogation
Along with Sam, Callen is skilled at interrogation.
Firearms
Like all NCIS agents, Callen is trained to use a firearm and can fire a single round from his SIG-Sauer, one that could non-lethally injury a suspect or kill one.
Leadership
As the leader of the Office of Special Projects field team, Callen is responsible for issuing many of the commands and orders that his fellow colleagues such as heading to a crime scene or searching for any possible evidence.
Relationship with NCIS Colleagues
Sam Hanna
Leroy Jethro Gibbs
Henrietta Lange
Tracy Rosetti
Kensi Blye
Marty Deeks
Nell Jones
Eric Beale
Owen Granger
Shay Mosley
Fatima Namazi