Boba Fett Returns - The Loop
Play Sound
Guilty Pleasure is the nineteenth episode in NCIS Season 7 and the 157th episode of the entire NCIS series.
This episode also marks the final appearance to date of both Norfolk Police Department Detective Philip McCadden and Holly Snow.
Synopsis
When a Navy Lieutenant is found dead, the team suspect that a call-girl is responsible, forcing them to call on a former Hollywood Madam in order to help them catch the real killer while following a recent argument with McGee, Tony starts hanging out with Detective Philip McCadden.
Prologue
Navy Lieutenant Justin Moss emerges from a small forested area but it's obviously that something isn't right with him given how he's almost staggering.
In a car, a group of teenagers are gossiping about how Brett Lange, the quarterback is dating Stacy Miller.
One states that she swears to God and that she saw his hand on her butt, walking to French.
The boy in the passenger seat wonders if they can talk about something else, anything else?
The girl then prepares to show her friend a photo on Miller's Facebook page and that she's so nasty.
Kimblerly, the driver then examines as Vince notes a man crossing the road.
Kimberly and Gwen wonder if Miller's skankly and ugly or "skugly".
"Look out!", Vince yells.
However, the man collapses just before the car hits him, causing the teenagers to gasp, startled.
Kimberly swears that she barely hit him.
"Oh my God", Gwen whispers before suggesting that they go check.
"I can't believe this", Kimberly mutters.
They all hop out of the car and approach the man with Kimberly gasping as she realizes that the back of the man's Navy hoodie is covered with blood.
"Whoa", Vince whispers.
Kimberly is now freaking out, wondering if she did this.
"No", Vince remarks before realizing that the man has been stabbed before telling her to call 911.
When Kimberly doesn't reply, Vince yells at her to get off Facebook and dial.
"Okay", Kimberly remarks and begins dialing as the rest of the group examine the dead man.
It then cuts to a close up of the stab wounds on the man's back.
Act One
Act Two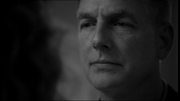 In the Conference Room with Tony and Ziva interviewing her, Emily Moss states that she doesn't understand how this could have happened before saying if that tramp touched her husband, then Emily's going to kill her.
Act Three
Act Four
Act Five
Cast
Series Regulars
Recurring Characters
Other Cast