Hereafter is the fifteenth episode of NCIS Season 10 and the 225th episode of the entire NCIS series.
This episode also marks the final appearance to date of NCIS Deputy Director Jerome Craig.
Synopsis
As the NCIS team investigate the death of a Marine who was assigned to Quantico, Vance, still on leave and struggling to come to terms with his wife's tragic death discovers unexpected personal information that leaves him and causes him to question everything he thought he knew about his family and his marriage.
Prologue
Marine Gabe Crowe runs through a forest with fellow Marine Brad Sykes yelling that he's got Crowe.
"Get him, Sykes!", Private First Class David Holland shouts.
As they continue jogging, Sykes complains about Crowe being fast.
"You're not catching me today", Crowe says as he begins climbing the obstacle before telling his colleagues or the ladies to watch and learn.
Two more Marines later arrive and begin climbing alongside Crowe.
The other Marines arrive and start yelling.
As Crowe gets to the top, he pauses upon starting to act with Holland telling Crowe, "Let's go, Crowe. Why you stopping?".
Crowe begins acting as if he's having a seizure before he loses his grip and begins falling off the platform with Holland yelling, "Crowe!".
Seconds later, Crowe hits the ground with a sickening and echoing thud as Marines gather around him.
It then cuts to show Crowe lying in the dirt, his eyes lifeless and glazed over with blood emerging from the right side of his nose.
Act One
Act Two
In the bullpen, Tony introduces the team to Lance Corporal Gabe Crowe who was born in West Virginia, raised by a single mother and who had no siblings.
Act Three
Act Four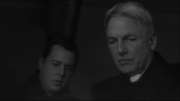 Act Five
Major Events
Cast
Series Regulars
Recurring Cast
Other Cast