House Divided is the 1st episode of NCIS Season 15 and the 331st episode of the NCIS series.
Synopsis
With two months having passed since Gibbs and McGee were last seen fighting an elusive group of rebels in a Paraguay jungle, the NCIS team in D.C. tirelessly searches for their missing colleagues while Vance and Torres are summoned to a congressional hearing regarding the fallout from the mission.
Prologue
Act One
Act Two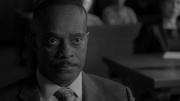 Act Three
Act Four
Act Five
Major Events
With Gibbs and McGee gone, it's revealed that Bishop has become the acting agent in charge of the MCRT.
Cast
Series Regulars
Recurring Cast
Other Cast