House Rules is the tenth episode of NCIS Season 12 and the 268th episode of the entire NCIS series.
Synopsis
The NCIS team consult with three cyber-terrorists they all had dealings with the past after a citywide Internet shutdown the week before Christmas while McGee reflects on the case and Gibbs's infamous rules as he writes a heartfelt letter to his father.
Prologue
As a jazz version of "Jingle Bells" plays in the background, NCIS Special Agent Timothy McGee opens a small area on a big Christmas card and smiles.
He then hits a key on his laptop and brings up a live-action shot of a fire.
Sitting at his typewriter, McGee places a lone sheet of paper into the main area and winds it up.
Taking a breath, McGee then types, stating "Dear Dad, Merry Christmas Eve. Because we usually end up saying the wrong things when we talk, in lieu on presents this year, I'm writing a letter. Even though a blank page and a conversation with you can be equally scary, I am a published novelist".
While typing, McGee informs his father that he wants to tell him about an unusual case NCIS had last week, a case that reminded McGee of his father because it was about rules and in hindsight, it's helped McGee realize a few things about his father, McGee himself and them before McGee types, "So here goes".
Back in the past, as McGee types that it started with a news report last week, it shows NCIS Special Agent Leroy Jethro Gibbs cooking a steak over his fire as a Western plays on Gibbs's TV.
Once the steak's cooked, Gibbs sits down in front of the TV, watching the Western.
As he digs into his steak, an announcer states that it's WJGZ and breaking news.
Seconds later, reporter Guy Ross appears on the TV, introducing himself before stating that that the national's capital tonight is experiencing a citywide Internet shutdown.
As Gibbs looks at the TV, concerned, Ross reveals that WJGZ has just received word of the interruption of service may be the result of a co-ordinated attack by a group of hackers.
As Gibbs eats his steak, Ross continues to say that authorities say that they're looking into the matter but that there is no immediate cause for alarm which has many questioning is this a coincidence? Or is the city under cyber attack?
Back in the present, McGee says Rule 39.
It then cuts to the typewriter which writes "No such thing as a coincidence".
Act One
Act Two
Act Three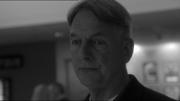 Act Four
Act Five
Cast
Series Regulars
Recurring Cast
Other Cast