Hung Out to Dry is the second episode in NCIS Season 1 and the 2nd episode of the entire NCIS series.
Synopsis
When a Marine crash-lands through an SUV during a night-training exercise, the initial cause is blamed on a faulty parachute. As the case progresses however, it appears his chute was rigged to fail with the team suspecting his death could be murder.
Prologue
Act One
Act Two
Act Three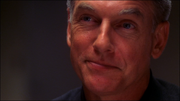 Act Four
Major Events
Kate Todd officially joins NCIS and begins her career as an NCIS Special Agent while serving as a member of the main NCIS Major Case Response Team and also as DiNozzo's partner.
Trivia
The song playing at the beginning of the episode is Dashboard Confessional- Ghost of a Good Thing.
Chaney Kley, who played Corporal Paul Brinkman later died on July 24, 2007 with his cause of death first being thought as sleep apnea but later being revealed as a drug overdose, confirmed by his father.
While talking to Tony about changing her artwork, Abby explains that she's got a "Chagall feeling" going on. This is a reference to Marc Chagall, a Jewish Belarusian artist whose main works came from fantasy and dreams.
Lieutenant Bud Roberts discusses what happened the last time he and Gibbs spoke to each other which occurred in the JAG Season 8/NCIS backdoor pilot episode, Ice Queen (episode). This also confirms that Kate is the official and permanent replacement for Vivian Blackadder.
The background given for Abby regarding her interest in forensics is the same as Pauley Perette's: living near a wrecking yard and being intrigued by the cause and effect of the wrecks.
Several characters get their names from crew members: Sarah Schaefer (Construction Coordinator, Thom Schaefer), Sgt. Gregory Nutt (Transportation Coordinator, Greg Nutt), Cpl. Paul Dafelmair (Costume Supervisor, Paul Dafelmair).
When Gibbs is checking different parachutes, Tony asks what he is looking for. Gibbs replies, "A screwed pooch." Screw the pooch is military slang for badly messing something up.
Patrick Labyorteaux, who played Lieutenant Bud Roberts on NCIS's parent series, JAG (series) is credited as a Special Guest Star.
This is also one of the very few episodes of NCIS where there's no music of any kind being played in Abby's lab.
In regards to 1400 being the designated time that the team will search the Marines's lockers, Tony says that it's two o'clock "secret service time", but Kate replies that they use Zulu time, so it's 1900.
This is also the first-ever episode of the NCIS series to introduce the "Special Guest Star" credit.
Kate's comment about how she did a year of law school before dropping out altogether is a possible reference to the fact that Sasha Alexander, the actress who plays Kate previously guest-starred on fellow CBS crime drama, CSI: Crime Scene Investigation as District Attorney Robin Childs. This also took place two or three years before Alexander joined NCIS.
This is also the first episode of the NCIS series to feature the original version of the NCIS theme song by Numeriklab as the previous episode contained a remixed version of the NCIS theme song. The remixed version was presumably dropped and replaced with the original version due to the fact that either the producers or the fans did not favor the remix.
Cast
Series Regulars
Recurring Cast
Guest Cast