Spider-Man: No Way Home Trailer Dropped - The Loop
Play Sound
Iced is the nineteenth episode in NCIS Season 3 and also the sixty-fifth episode of the entire NCIS series.
Synopsis
While playing on a frozen pond, two brothers discover a dead Marine underneath the ice, prompting the main NCIS team to be called in to investigate. While processing the scene, the team also discover the bodies of three dead gang members who are later identified as being part of a dangerous street gang, La Vida Mala or LVM for short. The team soon discover that it could be connected to the fact that the gang accidentally killed another Marine a year previously while they attempt to find out who was responsible for the Marine and the gang-bangers's deaths.
Prologue
Jeremy Hodges and Sean Hodges, two brothers are busy exploring an icy pond while discussing their mother's new boyfriend.
After a series of taunts from Sean, one of which has him calling Jeremy a chicken, Jeremy beats his brother by racing across the frozen lake.
Jeremy attempts to do it but soon finds himself distracted by something.
Sean keeps calling Jeremy, stating that if Jeremy doesn't hurry up, then he's going to tell their mother.
Ignoring his younger brother, Jeremy then manages to wipe away some of the ice with his glove and gets a huge shock when he sees a dead body lying underneath the ice which causes him to stagger back and fall to the ground.
It then cuts to Sean who looks startled and horrified at the discovery.
Act One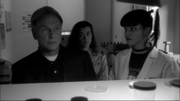 Act Two
Act Three
Act Four
Cast
Series Regulars
Season Three Cast
Recurring Cast
Guest Cast