Spider-Man: No Way Home Trailer Dropped - The Loop
Play Sound
In the Dark is the twenty-second episode in NCIS Season 4 and the ninety-second of the entire NCIS series.
Synopsis
The assistant of a blind photographer gets a shock when she spots a dead Petty Officer in one of her boss's photographs. Gibbs and the team investigate and soon realize that they're searching for the person responsible who not only killed the Petty Officer but also another man...
Prologue
Bryn Landers enters an apartment, carrying her handbag with one bag draped over her right arm as she holds two small containers in her left hand.
In the studio, photographer Jackson Scott hits a button and the music stops with Scott telling Landers that she's late.
As she reaches a table, dumping her belongings onto the table, Landers tells him that she's not.
Removing the photographs, Scott remarks that most civilized people at breakfast at 7am.
Outside, Landers hits a button that has her watch lighting up, revealing that the time is just after 7am.
Still holding the containers, she heads over to a small door on the wall, opens the door and then places the containers inside before telling Scott that she got him a wheat toast and a salad and that it's doctor's orders until he gets his chloestorel down. She also remarks that Vanity Fair called again and that they wanna know the photos of are...
She then opens the door and takes out something before closing the door again.
As she heads over to the main area of the apartment which is a studio, Landers examines the items which are revealed to be photographs.
Scott then emerges from his studio, eating.
Landers looks through the photos, smiling, remarking that they're really..
"Really what?", Scott wonders. "Boring? Stupid?".
It's then shown that Scott who's leaning against the wall, eating is in fact as he's relying on the wall for support.
He then asks Landers what's wrong.
Landers who's using a magnifying glass of some sort tells him that there's a man in this photo and that he's dead.
It then cuts to Landers who looks stunned at the discovery.
Act One
Act Two
Act Three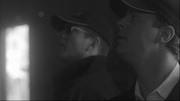 Act Four
In the morgue, Ducky is examining Peter Wong's body and states that the telltale inverted V combined with the hemorrhaging of the lips and eyelids, fractured cervical vertebrae which has DiNozzo pulling a face and that there are no drugs in his system and that there's only his DNA on the rope.
"Let me guess", DiNozzo states. "He hung himself".
Ducky agrees, stating that it would certainly appear that way.
Major Events
It's revealed that Abby has quit drinking caffeine.
It's also revealed that Palmer is a diabetic.
Tony and Jeanne De considering moving into together.
Cast
Series Regulars
Recurring Cast
Other Cast