Jet Lag is the thirteenth episode in NCIS Season 7 and also the 151st episode of the entire NCIS series.
Synopsis
As Tony and Ziva escort a witness home from Paris, their assignment takes a very serious turn when they discover a hired assassin is targeting the very witness they're protecting while back in D.C, Gibbs and McGee investigate the death of a Marine and in the process, discover some unsettling secrets about the victim.
Prologue
In a small apartment complex, maid Lupe arrives for work and after closing the door and locking it, turns around to see the apartment is a complete mess with various items all over the floor.
She mutters something in Spanish and says to herself, "Mr. Parsons, this is going to cost you extra".
With that, Lupe begins cleaning.
She picks up two shoes from the floor but stops upon hearing some clattering.
"Hello?", Lupe calls.
She then peeks through an open door and calls Parsons's name.
As she steps into the bathroom, a black cat meowing loudly emerges, causing Lupe to swear in Spanish and angrily wonder what the cat is doing in there?
She then realizes that the shower curtain has been pulled across the shower itself.
Lupe then approaches and pulls it, revealing that Sergeant Mark Parsons sitting semi-upright in the shower, the body almost completely buried in kitty litter.
"Mr. Parsons?", Lupe wonders, stunned before she blesses herself.
It then cuts to Parsons who sits there, dead, three scratches on his face.
Act One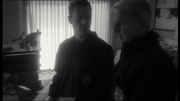 Act Two
In the bullpen, McGee talks about Sergeant Mark Parsons while revealing that members of his Special Op team said that he was a good Marine but a loner with no family and no friends and apparently, the Marine-turned-hitman really kept to himself.
"The nature of the business", Gibbs remarks.
Act Three
Act Four
Act Five
Major Events
Holly Snow, an influential Washington, DC madam and brothelkeeper is introduced for the first time.
In the process of arresting Nora Williams's fiance, Gibbs's right arm is broken, resulting in him being forced to use his left arm.
Cast
Series Regulars
Other Cast