Wiki Targeted (Entertainment)
Play Sound
Judge, Jury... is the 21st episode of NCIS Season 16 and also the 375th episode of the entire NCIS series.
Synopsis
After entering cold case DNA into the system, Kasie solves a 30-year-old murder case, but a loophole in the legal system may set the suspect free, while McGee visits an elite technology company in Silicon Valley that is offering him a highly paid position.
Prologue
Act One
Act Two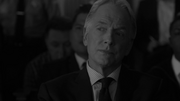 Act Three
Act Four
Act Five
Major Events
Director Vance, still sore about being deceived, erased any evidence towards his date.
The stash of money that Wesley Clark found was revealed to be a deposit used specifically for vigilante murders (including the most recent vigilante murder).
Westley Clark, true to his paranoia about being followed regarding what he had uncovered, ended up killed within Gibbs' home.

Vance's former date is also present, with Vance and Gibbs assuming she was responsible for his death, although she claims innocence despite appearances.

McGee, having earlier been invited to test out a social media company's products, is secretly sent to their headquarters specifically to investigate the slush fund that Wesley Clark encountered earlier, although it came at the cost of him being banned from using their products upon being caught.
Eleanor Bishop is revealed to be born circa 1985/1986 (as she had been four years old at the time of the Klowny Kakes poisoning scare in 1989).
Trivia
Mike Farrell, who played B.J. Hunnicutt in M*A*S*H in Seasons 4 through 11, guest stars in this episode as Judge Miles Deakin
In reality, the witnesses do not watch other witnesses testify during a court, and the defense by that point would have been well into the proceedings that DNA evidence could not be thrown out. In addition, Judge Deakin would not have the authority to get involved in the case, or interfere on McGee's behalf.
Cast
Series Regulars
Recurring Cast
Other Cast