Keep Your Enemies Closer is the 15th episode of NCIS Season 15 and also the 345th episode of the entire NCIS series.
Synopsis
NCIS strikes a deal with convicted murderer Paul Triff, giving him a 48-hour furlough at his former residence which is now McGee's home in exchange for information that can convict his former cellmate, Gabriel Hicks, the murderer who deceived Gibbs and Fornell.
Prologue
Act One
Act Two
Act Three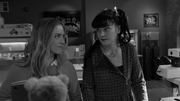 Act Four
Act Five
Cast
Series Regulars
Recurring Cast
Other Cast
Community content is available under
CC-BY-SA
unless otherwise noted.