Spider-Man: No Way Home Trailer Dropped - The Loop
Play Sound
Kill Screen is the sixteenth episode in NCIS Season 8 and the 178th episode of the entire NCIS series.
Synopsis
Extracted teeth and dismembered fingers belonging to a Marine are found at a crime scene and as the NCIS team investigative, they discover a connection to a hugely popular video game along with secret codes that could not only jeopardize national security but also be used to launch an attack on the Pentagon's computers...
Prologue
The episode opens on a lone hat with a sign saying "This could be you someday".
It then pans up to reveal someone in a panther costume juggling stuff while on a one-wheel bike as numerous people look on, amused.
As this happens, Billy Sullivan bumps into a man with the two apologizing before going their separate ways.
Billy then examines the man's wallet and produces a few dollars from the wallet before throwing it into a bin.
As Billy looks on, he then hears a man calling about hot dogs.
One man states that he'll take two kraut dogs.
Billy approaches, stating that he needs a napkin.
He then grabs a napkin while stealing a wallet.
Once he's gotten what he wanted, Billy ditches the napkin and examines the wallet which turns out to be a purse.
A Cop then stops Sullivan, remarking that the purse isn't exactly Billy's style.
Billy lies, remarking that it's a gift for his mom.
The cop wonders if he can take a look inside.
"Yes", Billy says.
The cop then states that it wasn't a request.
Billy then hands over the purse while complaining that this is harassment and that it's his purse.
The cop looks inside, remarking "What the Hell?" before he produces his gun, aiming it at Billy and telling Billy, "Hands where I can see them".
"Whoa, whoa", Billy says, stunned.
It's shown that various finger digits and teeth are now on the ground, having been in the purse.
It then cuts to Billy who admits that's not his purse.
Act One
Act Two
In the bullpen, the team discuss Corporal Zach Armstrong with Tony stating that Armstrong was a decorated Marine. McGee then adds that Armstrong was about to be deployed to Afghanistan.
Act Three
Act Four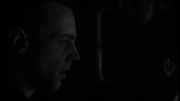 Act Five
Major Events
It's revealed that Abby may know some Chinese.
Trivia
The IMDB database gives the victim's name as "Zach Anderson" but it's actually Zach Armstrong.
Cast
Series Regulars
Recurring Cast
Other Cast