Left for Dead is the tenth episode in NCIS Season 1 and the 10th episode of the entire NCIS series.
Synopsis
NCIS investigate when a young woman digs herself out of a grave in Rock Creek Park while also claiming that there's a bomb on board a Navy ship. As they work the case, Kate develops an emotional bond with the woman, unaware that the woman knows more than she's letting on.
Prologue
Act One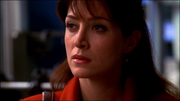 Act Two
Act Three
Act Four
Major Events
It's revealed that Tony and Ducky have been working together for two years.
Trivia
Michael Edward Rose, who plays the murder victim Walter Richter, would later reappear in the NCIS Season 7 episode, Double Identity (episode) as Marine Major Gordon Holcomb.
Series regular Mark Harmon (Leroy Jethro Gibbs) and Sherilyn Fenn ("Jane Doe"/Suzanne McNeil) previously worked together on the 1991 movie "Dillinger", about infamous bank robber John Dillinger. Harmon played Dillinger while Fenn played Evelyn Frechette, a woman associated with Dillinger who later became his girlfriend.
Cast
Series Regulars
Recurring Cast
Guest Cast