Spider-Man: No Way Home Trailer Dropped - The Loop
Play Sound
Light Sleeper is the fourteenth episode in NCIS Season 3 and also the sixtieth episode of the entire NCIS series.
Synopsis
The NCIS team investigate when the bodies of two Marine wives are discovered in a house on a Navy Base with evidence revealing that both women have been shot. As they search for the killer, the team discover that the other woman as well as the two victims along with a forth person are part of a sleeper cell that is linked to North Korea but not everything is what it appears to be...
Prologue
In a quiet little neighborhood with the sun, Yoon Dawson arrives back from shopping just as her neighbor, Gina Goodwin passes by while power-walking.
After exchanging greetings with Gina even going misty-eyed over Yoon's baby daughter, the two then head inside with Gina carrying the bag of groceries while Yoon carries the baby.
They try the front door but there's no answer.
Gina soon suggests the back door which gives the two women access at last.
As Gina puts the groceries down and then switches off the kettle, remarking that the kettle was how her aunt burned down her house, Yoon heads into the living room and manages to turn the music down.
Upon turning around, she and Gina get the shock of their lives when they see Yoon's friends, Sun Porter and Ming Crane sitting on the couch, both women dead after being shot at close-range.
It then cuts to one of the woman, Sun who sits there, dead, her features full of disbelief.
Act One
Act Two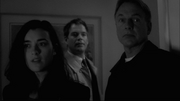 Act Three
Act Four
Trivia
In the scene where Abby is seen explaining the gun and bullets that were found in Sergeant Porter's car, if you look closely, you can see that she's wearing gloves in one scene yet in the next, they're gone.
Cast
Series Regulars
Season Three Cast
Recurring Cast
Guest Cast