Lost in Translation is the twenty-first episode of NCIS Season 12 and also the 279th episode of the entire NCIS series.
Synopsis
Following the murder of a Marine, the NCIS team investigate and soon discover that the killing in question is linked to a terrorist group in Afghanistan who are holding another Marine hostage overseas, prompting Gibbs and Bishop to head to Afghanistan to save the captured Marine before it's too late while Tony is stunned when he learns that McGee is the new face of NCIS's recruitment brochures.
Prologue
Marine Joseph Wilkes arrives back home, having been on a jog.
He rings the doorbell, telling the Captain that he's supposed to meet him out front and that he's not the Captain's personal wake-up call.
Wilkes rings the bell again, complaining that he hasn't had his morning coffee yet and that the kid is testing his patience.
Suddenly, thudding is heard coming from inside the house.
Looking in, Wilkes sees David Landis lying on the floor, tied to a chair, blood oozing from a wound coming from Landis's mouth.
"What...?", Wilkes says.
With that, Wilkes then bursts in and rushes over where Landis lies on the floor, unmoving.
"Oh my God", Wilkes mutters.
As this happens, a masked intruder arrives in, hitting Wilkes over the back with a baseball bat.
Not giving up, Wilkes staggers to his feet and slams the intruder against a book case, the two spending the next minutes struggling to get an edge on the other.
The intruder draws a knife and quickly stabs Wilkes in the left side, causing Wilkes to cry out in pain.
As Wilkes hits the floor, the intruder uses that moment to flee.
Left injured, Wilkes can only watch as the intruder flees via the back door of the house.
It then cuts to Landis who lies on the floor, blood oozing from wounds on his neck with his eyes open and glazed over, revealing that Landis is dead.
Act One
Act Two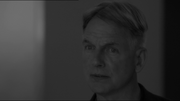 Act Three
Act Four
Act Five
Cast
Series Regulars
Recurring Cast
Other Cast