Love Boat is the 4th episode of NCIS Season 14 and the 310th episode of the entire NCIS series.
Synopsis
When the body of a Navy Lieutenant is discovered on board a destroyer, the U.S.S. Hover during a tiger cruise where civilians guests are given the option of spending the night on the ship, Gibbs, Quinn and Palmer head to sea to investigate the circumstances behind the death while McGee thinks about the perfect proposal for Delilah.
Prologue
Act One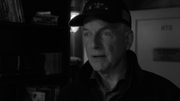 Act Two
Act Three
Act Four
Act Five
Major Events
Torres meets Delilah in person for the first time,
McGee proposes to Delilah with Delilah accepting.
Cast
Series Regulars
Recurring Cast
Guest Cast