Mind Games is the third episode in NCIS Season 3 as well as the 49th episode of the entire NCIS series.
Synopsis
A psychopathic serial killer who murdered several young women while carving a mark in their backs as well as taking their tongues as trophies is scheduled for execution in three days. In despair, the local authorities have granted him temporary release in hopes that he'll tell the families of the victims he killed where he buried their loved ones but the killer is only interested in talking to the one person who arrested him: NCIS Special Agent Leroy Jethro Gibbs. However, while investigating the case, Gibbs and the team come across disturbing evidence that suggests that a copycat is still carrying on the killer's legacy despite the killer having been on Death Row. The stakes are raised when Paula Cassidy who has joined the team on a temporary basis in the aftermath of Kate's death is kidnapped by the copycat, forcing the team into a desperate race against time as they seek to save her from the copycat's clutches while also ensuring that the serial killer's execution goes ahead as planned.
Prologue
Act One
Act Two
Act Three
Act Four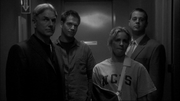 Major Events
Trivia
This is the only episode of Season 3 as well as the only episode of the entire series up until the Season 11 premiere episode, Whiskey Tango Foxtrot (episode) that Cote de Pablo (Ziva David) doesn't appear in.
Mike Franks must have been Gibbs's partner when he arrested Kyle Boone, since he was arrested in 1995 and Franks retired in 1996.
Christopher Shyer (Kyle Boone) and Jessica Steen (Paula Cassidy) who appear in this episode are both originally from Canada.
When Gibbs asks McGee how far John Biggs is, the red light of a camera can be seen in the back seat of the car he and Tony are in.
The serial killer's file number on the file reads "H1 J3551CA" or "Hi Jessica" which was referring to SA Paula Cassidy who was played by Jessica Steen.
Boone appears to be majorly inspired by serial killer Ted Bundy, an incarcerated and executed serial killer and rapist having tried to stay the date of execution by bargaining with missing women and girls Bundy killed the police never found. Although Boone's lawyer killed more women at his behest, Bundy escaped twice and was directly responsible for more murders during each escape.
Cast
Series Regulars
Recurring Cast
Guest Cast